Developing a thesis is an important step in your academic career as a student pursuing urban planning or design. Your Urban Studies Thesis is the culmination of years of study, investigation, and comprehension of the foundational ideas of urban planning and design. It serves as a vital contribution to the subject of urban planning and design in addition to serving as a showcase of your academic accomplishment.
The value of your thesis extends far beyond the completion of your degree. The discipline of urban planning and design stands to benefit much from your thesis topic and study. You can fill in knowledge gaps, investigate new possibilities, and address pressing urban problems with your investigation. Sharing your results with the academic community at large, adding to the ongoing conversation about urban planning and design, and sparking new lines of inquiry are all possible outcomes of publishing your thesis.
In addition, your thesis can play a significant role in determining the trajectory of your future work in urban planning or design. In doing so, you can demonstrate your qualifications to prospective employers and strengthen your position as an applicant. The work you do for your thesis might also pave the way for more study and higher degrees like a doctorate.
Urban Design Lab is proud to present the UDL Thesis Publication, a platform designed to publish and highlight your thesis on a global scale. Our thesis publication offers a unique opportunity for both post-graduate and undergraduate students to showcase their innovative and research-based thesis projects related to urban design, landscape architecture, and planning. Our goal is to promote the latest global design and research trends, providing valuable insights for academic and professional communities while fostering innovation and creativity in the field. Join us in making a contribution to the future of urban planning and design.
Significance of your Urban Studies Thesis
Contribution to Knowledge
A thesis serves a crucial role in adding to the knowledge base of your urban planning or design field. Your thesis should introduce new concepts, methodologies, or resolutions to a specific urban design or planning challenge. By conducting thorough research and analysis, you can identify areas where existing knowledge is lacking and provide valuable insights and recommendations to help advance the field.
Your thesis can also have a significant impact on the practice of urban planning and design. Your research findings and recommendations can inform and influence urban planning policies and strategies. For instance, your thesis may explore the impact of urban design on the quality of life in a particular community, and your recommendations may lead to the implementation of more sustainable and equitable urban design practices.
Writing a thesis also provides an opportunity for professional development. The research and writing skills you acquire while working on your thesis can help you in your future career as an urban planning or design professional. Additionally, your thesis can serve as a portfolio piece that showcases your expertise and knowledge to potential employers or clients.
Networking and Collaboration
As you work on your thesis, you may have the opportunity to collaborate with other urban planning and design professionals, researchers, or academics. These collaborations can lead to new partnerships, research opportunities, and networking connections that can benefit your future career.
Get your Thesis Published with UDL Thesis Publication 2023
The Urban Design Lab thesis publication provides a unique platform for post-graduate and under-graduate students to showcase their innovative design and research-based thesis projects related to urban design, landscape, architecture, and planning. The publication aims to promote global design and research trends, offering valuable insights for academic and professional communities while fostering innovation and creativity in the field.

The scope of the publication encompasses a selection of outstanding under-graduate and post-graduate student thesis completed in the last five years, in conjunction with the urban domain. These exemplary thesis entries will be compiled into a dedicated book that serves as the official record of the seminar proceedings. The publication will be assigned an International Standard Serial Number (ISSN) to facilitate easy reference and recognition globally.
Benefits of getting your thesis Published
Publishing your thesis with UDL Thesis publication 2023 comes with several benefits. Here are the top six benefits: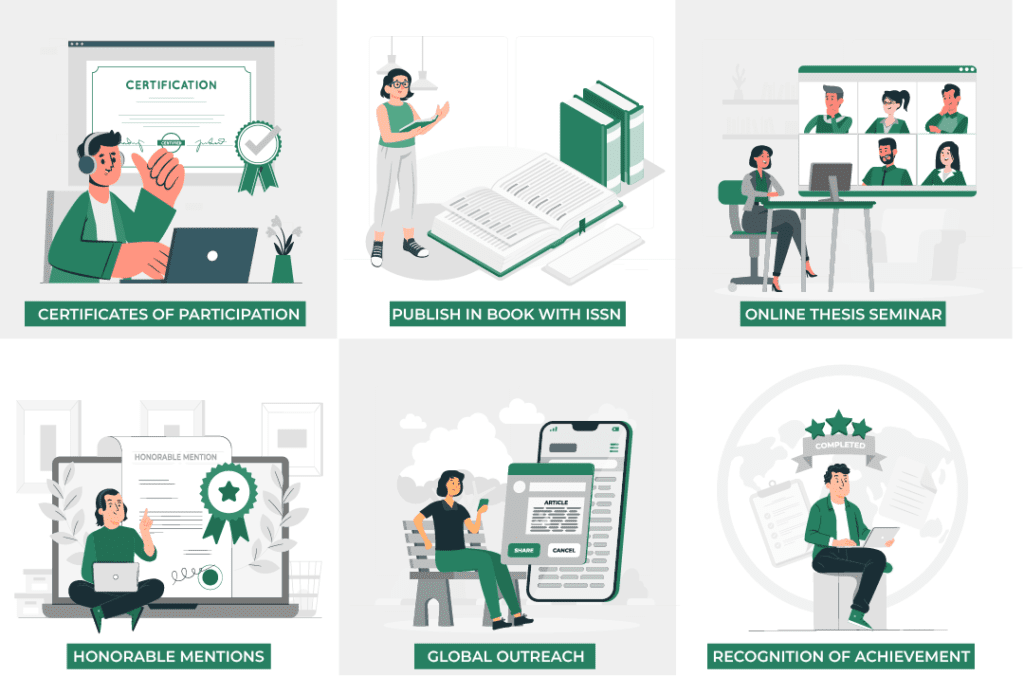 Certificates of Participation: All participants will be provided with certificates of participation, which can add value to your resume and demonstrate your commitment to research.
Publication in a Book with ISSN Number: The best works of the 40 selected thesis entries will be featured in a book with an ISSN number, which can increase the visibility of your research and make it more accessible to a wider audience.
Presentation to Esteemed Panel of Urban Experts and Professionals: The top 40 participants will have the opportunity to present their work to an esteemed panel of urban experts and professionals from across the world, through an online seminar. This can provide valuable feedback and exposure to your research.
Honorable Mentions: In addition to the top 40 participants, 10 Honorable Mentions will also be recognized and published on the UDL Thesis publication website and social media, which can increase the visibility of your work and potentially lead to future opportunities.
Global Outreach: UDL Thesis Publication: Showcase your research to a global audience, enhance your academic and professional reputation, and access future opportunities in urban planning and design. Selected entries will also be featured on our website and social media for increased visibility.
Recognition of achievement: Being selected as a top participant or receiving an honorable mention can be a prestigious recognition of one's research and academic achievements
Publication Themes for UDL Thesis Publication 2023
We are excited to announce the themes for the Urban Design Lab Thesis Publication 2023. This year's publication focuses on four critical themes that highlight the challenges and opportunities of urban planning and design. The themes include Urban Renewal, Urban Landscapes, Urban Management, and Urban Networks. These themes offer a comprehensive perspective on urban development, covering issues related to conservation, revitalization, heritage revival, natural and built environment management, physical, social, economic and infrastructure management, and connectivity, linkages, transit, and mobility. 
With these themes, we aim to promote innovative and sustainable approaches to urban planning and design and inspire students to address the complex challenges facing our urban areas.
How to get your Thesis Published?
If you are a post-graduate or undergraduate student in the fields of urban design, architecture, landscape, or planning, and have completed a thesis project, then you have a unique opportunity to showcase your research and design skills to the world. 
The Urban Design Lab (UDL) Thesis Publication 2023 provides a platform for students to publish their thesis projects and gain recognition on a global level. The publication follows a six-step process, which includes registering for publication, submitting a thesis portfolio, announcement of results, participating in an online thesis seminar, receiving participation certificates, and finally, having your thesis published in a book format.
For a detailed step-by-step guide on the procedure, visit the link below. Don't miss out on this opportunity to share your work with the world and contribute to the field of urban design and planning.