Grace Midtown Church in English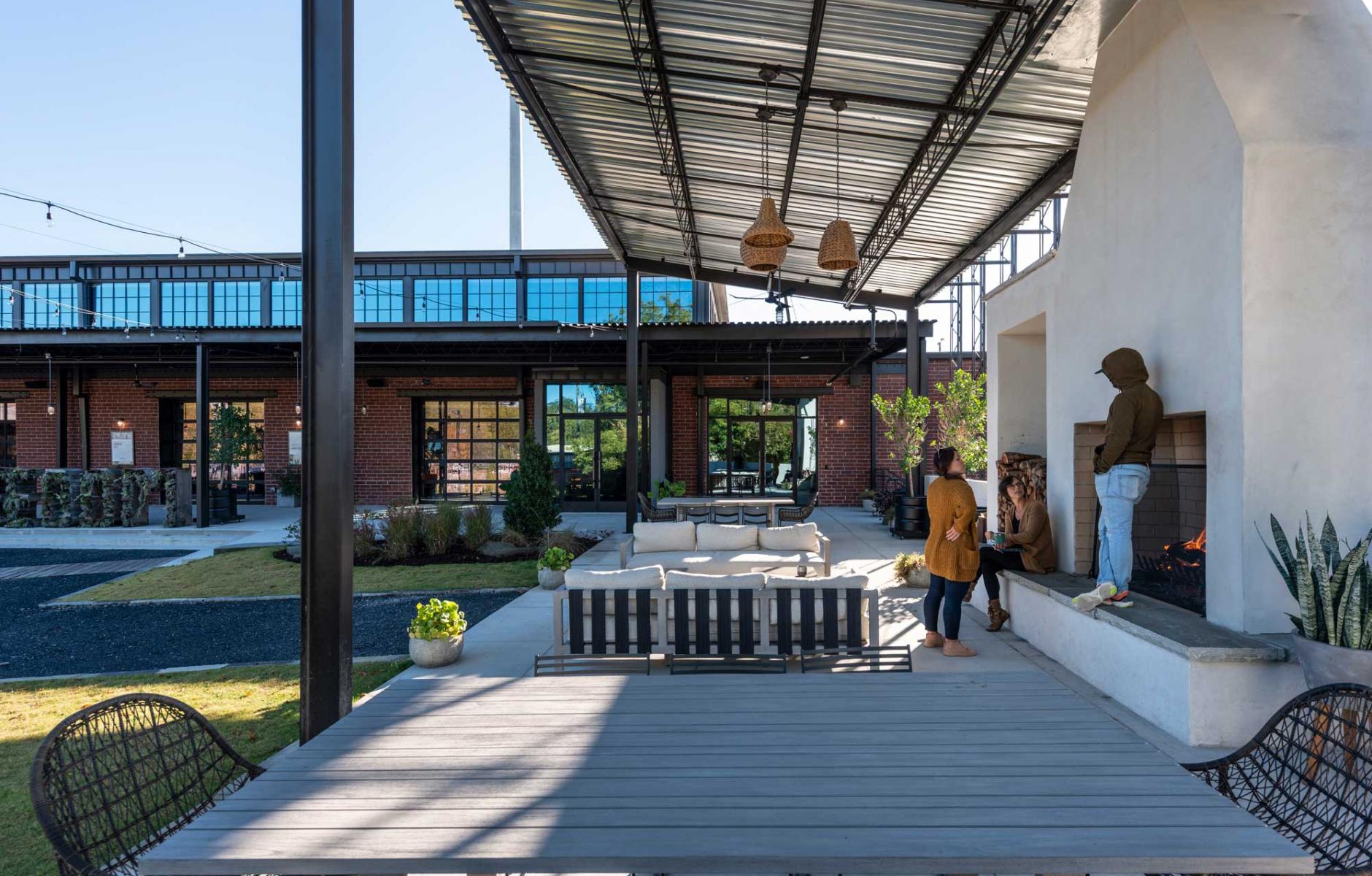 Grace Midtown Church

Summary :
Grace Midtown Church in Atlanta, Georgia is a nontraditional church that has transformed a former warehouse into a 1,000-seat auditorium and a parking lot into a multi-use outdoor gathering area. The church is accessible via walking and biking trails, including the Atlanta Beltline linear park that links 45 neighborhoods in a loop. The transformation of the site included adding clerestory windows for natural light, custom-fabricated steel trusses to maintain an open floor plan, and covered patios enclosing a new courtyard with an outdoor fireplace. The church leases a nearby lot on Sundays for parking, allowing the former parking lot to become a 13,300 square foot outdoor courtyard with natural stormwater retention. The addition of a spur to the Atlanta Beltline adjacent to the property created car-optional access for visitors. This project serves as an example of how underutilized industrial properties can be repurposed into community assets.
Description :
Grace Midtown Church is a growing, young, nontraditional church that has reimagined both its worship space and how the church relates physically to the city. An unremarkable former warehouse in an industrial area was converted into a 1,000-seat auditorium. A parking lot was transformed to a multiuse outdoor gathering space. Grace Midtown is linked by walking and bicycling to much of the city through the adjacent Beltline, Atlanta's 22-mile-long linear park that connects 45 neighborhoods in a loop.
"Grace Midtown is a good example of how churches are rethinking their buildings and how they relate to the public realm, re-establishing the relationship between the public space and the congregants inside," says juror Marques King, economic development and design manager for Jefferson East. 
The 3-acre site began as a typical industrial park lot with an 18,000-square-foot warehouse and an attached two-story office building with substantial surface parking. Located between industrial and residential areas in the transitioning English Avenue neighborhood, the property was an unlikely location for a community gathering spot. Grace Midtown Church is a mile from downtown and a half mile from the Georgia Tech campus. 
The first challenge was converting the old warehouse to an event space. The interior was dark and sight lines limited. The solution involved lifting the central portion of the roof up and adding large clerestory windows for light. To preserve interior site lines, custom-fabricated steel trusses spanned the full width of the building—maintaining an open floor plan and eliminating visual obstructions. 
The attached building now contains an open café downstairs and administrative offices and meeting rooms upstairs. New window openings were added throughout to bring in natural light and provide views to the courtyard.
The surrounding site also needed major improvements. On a lot that was entirely paved with asphalt and gravel, covered patios now enclose three sides of a new courtyard, with large overhead garage doors allowing for a seamless connection between interior and exterior spaces.
At the south end of the courtyard is a covered outdoor fireplace—an unusual amenity for a church but one that promotes social interaction. The drab industrial property became an airy and verdant space in a part of the city that had seen little investment in recent years. "This newly restored property is now functioning as a place where community, connection, work, events, and outreach is happening for the English Avenue neighborhood," says Matt Bauer, former director of Grace Midtown Church.
Church sites are usually distinguished by large parking areas that are underutilized most of the week. A parking variance and offsite parking strategy were key to the site design, allowing the church to devote outdoor space to better uses. Grace Midtown leases a nearby lot on Sundays for its primary parking needs. The former parking lot was transformed into a 13,300 square foot outdoor courtyard featuring a bioswale and pervious paving materials—improving natural stormwater retention on the site. 
Connection to Beltline
Midway through construction, a spur was added to the Atlanta Beltline running diagonally adjacent to the property, which created an opportunity for car-optional access for thousands of Atlanta residents. The design team worked quickly with local authorities to add multiple connections between the property and the trail, bicycle storage and repair facilities, and a reconfigured courtyard edge that presents a welcoming frontage to the park. Now, visitors to the site can conveniently arrive on foot or via bike.
This confluence of the community, uses, and corridors creates an ideal setting for Grace Midtown's programming. The project demonstrates how similar underutilized industrial properties around the US can be repurposed into community assets.
Project Details
Grace Midtown Church Atlanta, Georgia

Characteristics
sources:
1- melk360.com ,Grace Midtown Church ,2022-05-10 13:47:45
2- https://www.cnu.org/what-we-do/build-great-places/grace-midtown-church?rand=53