Imagine Broadway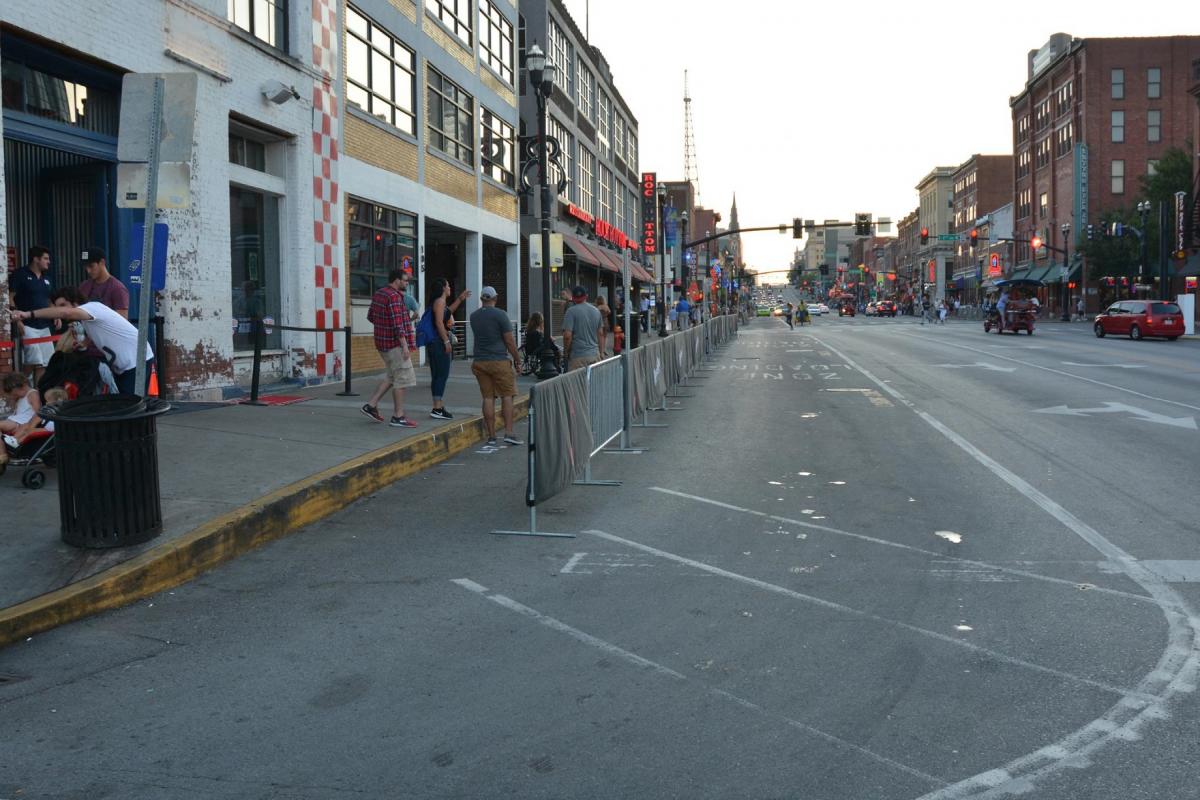 Envision Broadway

Summary :
The Envision Broadway Demonstration Project in Nashville is testing streetscape features to take space away from vehicles and share it with pedestrians, testing public interest in permanent improvements to the public realm. The first six-week demonstration expanded "people space" on both sides of the street, including a 17-foot-deep plaza on the south side of the block with colourful café tables, picnic tables, Adirondack chairs, benches, bike racks, and umbrellas. The transformed block still featured four lanes of traffic, but the allocation of the public realm was more balanced with a two-foot strip of landscaping protecting diners, loungers, and pedestrians. The project is part of a long-term plan to permanently transform the thoroughfare, and the city is now evaluating a permanent shared space design.
Description :
Lower Broadway es una importante vía arterial en el corazón del famoso distrito de "honky tonk" de Nashville, con restaurantes y bares que ofrecen música en vivo. Muchos modos de tráfico, incluyendo automóviles, camiones de reparto, autobuses, taxis, Ubers y Lyfts, se mezclan y compiten con peatones, que tienen un espacio inadecuado en la acera.
El Proyecto de Demostración Envision Broadway prueba características de paisaje urbano lúdicas y coloridas que toman espacio de los vehículos y lo comparten con personas fuera del carro, mientras mide el interés público en mejoras permanentes en el espacio público.
La primera demostración de seis semanas, entre Primera y Segunda Avenidas, expandió el "espacio para las personas" en ambos lados de la calle, incluyendo una plaza de 17 pies de profundidad en el lado sur de la cuadra con coloridas mesas de café, mesas de picnic, sillas Adirondack, bancos, estacionamientos para bicicletas y sombrillas. El gris opaco asfalto fue pintado de azul brillante.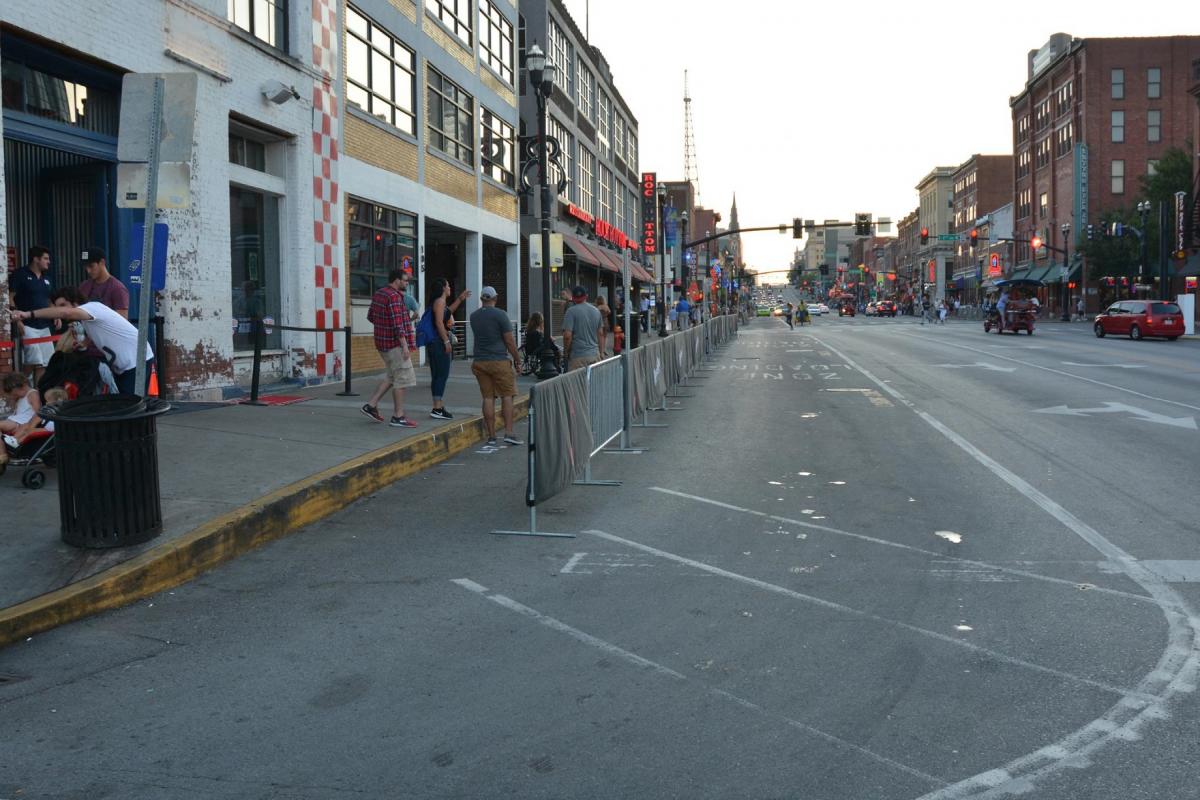 La cuadra transformada aún presentaba cuatro carriles de tráfico, por lo que se mantuvo un espacio adecuado para los vehículos, pero la asignación del espacio público fue más equilibrada, reflejando la abundancia de peatones en Lower Broadway. Una franja de dos pies de paisajismo con pesados maceteros y marcadores tubulares protegían a los comensales, descansadores y peatones, todo mientras mantenía una sensación de apertura a la calle.
Envision Broadway es un paso en un plan a largo plazo para transformar permanentemente la arteria. El enfoque de bajo costo y por fases presenta poco riesgo mientras ofrece potencialmente una alta recompensa. Con un compromiso a corto plazo y expectativas realistas, los planificadores, funcionarios electos y ciudadanos pueden experimentar una versión simplificada de una visión más grande.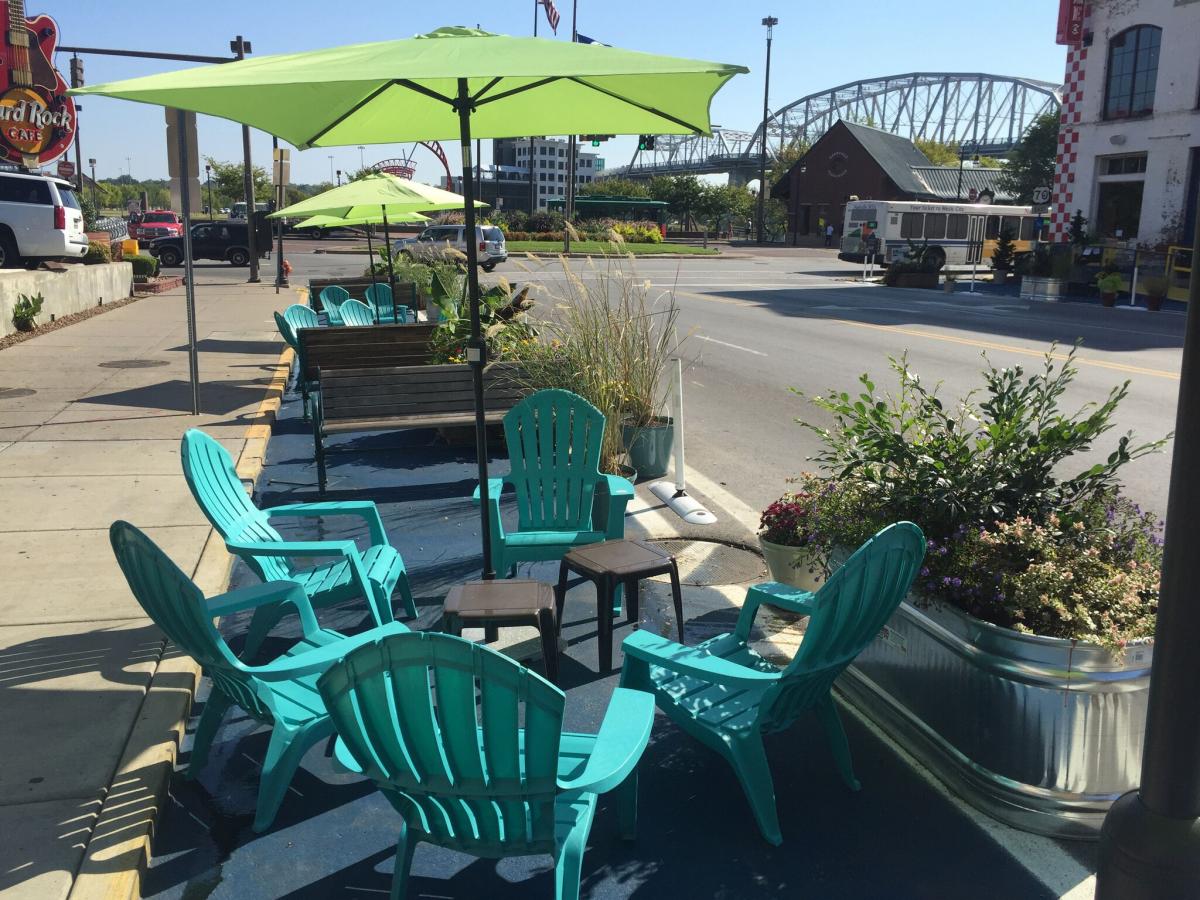 "El rediseño tiene el beneficio adicional de mejorar la creación de lugares", dijo un residente local. "La suavización del espacio a través del rediseño lo hará mucho más atractivo que su estado actual, y Lower Broadway se convierte en una experiencia y destino mejor en sí mismo".
La ciudad está evaluando un diseño permanente de espacio compartido. "Lower Broadway está en el corazón de nuestra ciudad tanto física como culturalmente", dice la alcaldesa Megan Barry. "Es donde se toca la música y donde la gente quiere estar. Es una de las calles más concurridas para peatones que encontrarás en cualquier lugar, y debe ser divertido, seguro y fácil de navegar para todos".
sources:
1- melk360.com ,Envision Broadway ,2018-07-24 19:16:16
2- https://www.cnu.org/what-we-do/build-great-places/envision-broadway?rand=53