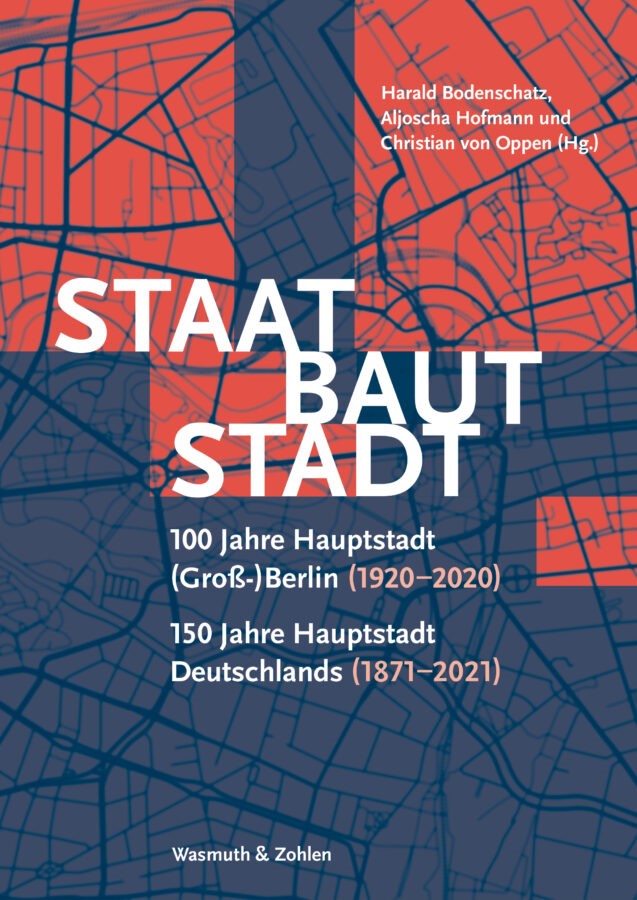 STAAT BAUT STADT
100 Years of (Greater) Berlin as a Capital City (1920-2020)
150 Years of Germany's Capital City (1871-2021)
A publication of the Council for European Urbanism Germany in collaboration with the Center for Metropolitan Studies at the Technical University of Berlin.
Tuesday, 22.09.2020, 7:00 pm
At the Event Space in Tacheles
Oranienburger Str. 54
(Access via the construction access road)
10117 Berlin-Mitte
PROGRAM
Welcome:
Dr. Christian von Oppen
(pwr Development, CEUD)
Greetings:
Gerwin Zohlen
(Wasmuth & Zohlen Verlag)
Introduction:
Prof. Dr. Harald Bodenschatz
(TU Berlin, CEUD)
Panel Discussion:
Franziska Eichstädt-Bohlig
(B90/Grüne)
Ephraim Gothe
(District Building Councillor for Mitte)
Prof. Dr. Max Welch Guerra
(University of Weimar)
Closing Remarks:
Aljoscha Hofmann
(TU Berlin, CEUD)
Moderator:
Nikolaus Bernau
(Journalist)
In 1920, Berlin had only been Germany's capital for less than half a century. Young, not universally loved, and certainly not always appreciated. The Greater Berlin Act of 1920 was silent on the issue of the capital. Nevertheless, the central state played a crucial role in shaping the further development of the gigantic city – an aspect that is often overlooked. This was true for the Weimar Republic, the Nazi period, the era of divided Berlin, and also for the time after the fall of the Berlin Wall. What is new, however, is that the capital Berlin is now very popular abroad, as a cheerful and tolerant showcase of a not always appreciated state.
The discussion on the volume "Staat baut Stadt" will examine excerpts from the various stages of the tumultuous history of the relationship between the city and the central state. Always with the backdrop: Berlin, the capital city – an unfinished project!
Registration
Please register by September 18, 2020, indicating your full name, telephone number, and email address (for the required contact tracing) at
staat-baut-stadt@nullceunet.de
Please understand that we have a limited number of seats and participation is only possible after confirmation. We will inform you about the applicable hygiene measures on the evening of the event.
Notes in Connection with the Corona Pandemic
Due to the current situation, we ask you to observe the applicable social distancing rules and hygiene measures. Please bring a mouth and nose mask with you in any case. Short-term changes are possible due to the applicable Corona regulation.
An Event in Collaboration with