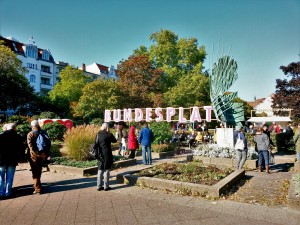 Several thousand people gathered at Berlin's Bundesplatz on Sunday, October 11, 2015, in beautiful sunny weather, to explore new forms of mobility and urban living as part of the Science Year 2015. The Berlin district of Charlottenburg-Wilmersdorf had reached the first round of the Federal Ministry of Education and Research's "Future City" competition. Together with civic (Initiative Bundesplatz e.V.) and scientific (Center for Metropolitan Studies at the TU Berlin; Council for European Urbanism Deutschland e.V.) partners, government, administration and the public, the transformation of a city space and neighborhood that has been heavily influenced by car traffic, towards a more attractive and livable district in the 21st century – with a new balance between different modes of transport, such as mobilized individual transport, public transport, cycling and walking – was investigated and may be implemented in the third round of the competition.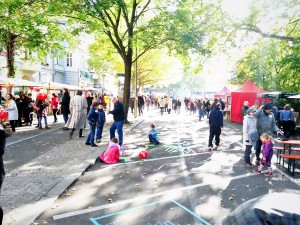 On Sunday, parts of Bundesplatz were closed to car traffic to test possibilities for a "Bundesplatz of the future." Visitors could explore the strengths, weaknesses, challenges and opportunities of Bundesplatz at six stations on a city safari and contribute their own visions and experiences to the process. At the "Highway to Hell" station, possibilities for repurposing or even dismantling the tunnel were discussed. The event also had a political impact. District councilor Marc Schulte opened the event in the afternoon and pointed out the opportunities at Bundesplatz to address one of the global urban challenges: dealing with the difficult legacy of the car-dominated city of the second half of the 20th century. In addition to district mayor Reinhard Naumann and representatives from the district and state parliaments, urban development senator Andreas Geisel, the event's patron, was also present.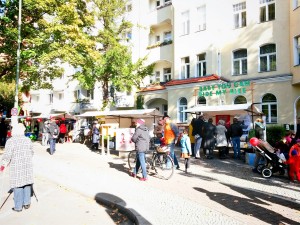 A non-public expert workshop will be held at the end of November to bundle the knowledge gained at the event and further develop it with stakeholders.
Further information can be found on the website of the Initiative Bundesplatz e.V..